MicroRNAs (miRNAs), a class of short (21-24 nt) noncoding RNAs, widely exist in eukaryotic organisms. miRNA mediates the sequence-specific, post-transcriptional repression of mRNA targets. Most plant miRNAs directly cleave their targets, to exert their functions in a range of developmental processes, ensuring proper embryonic, vegetative, and floral development, as well as tolerance and responses to extrinsic stresses.
Auxin signaling plays diverse and pivotal roles in many aspects of the growth and development of plants. Auxin signaling pathway is repressed by auxin/indole acetic acid (Aux/IAA) proteins. In the presence of auxin, Aux/IAA proteins are degraded through the proteasome and the signaling pathway is activated.
Previous researches suggest that many miRNAs are involved in the response of plant hormones auxin. However, the networks involving miRNA, mRNA and plant hormones remain elusive.
By using bioinformatical prediction, molecular biological and genetic methods, Prof. GUO Huishan's group discovered a miRNA (miR847) with low expression level was induced by auxin and targeted the mRNA of the Aux/IAA repressor-encoding gene IAA28 for cleavage. The rapidly increased accumulation of miR847 in Arabidopsis thaliana coincided with reduced IAA28 mRNA levels upon auxin treatment. Plants overexpression of miR847 and IAA28 knockout mutant (iaa28-ko) produced typical and similar auxin phenotypes, for example: more lateral roots, more and larger leaves with serrated margins.
Moreover, both miR847 and IAA28mRNAs are specifically expressed in marginal meristems of rosette leaves and lateral root initiation sites, where cells maintain meristematic competence. Several cell cycle genes were up-regulated in miR847 transgenic plants and iaa28-ko.
These data indicate that auxin-dependent induction of miR847 cleaved IAA28 mRNA to upregulate auxin signaling and modulate plant development. This finding reveals that the miR847/IAA28 mRNA module regulation, together with targeted IAA28 protein degradation, ensures more rapid auxin signal de-repression.
The results were published in the Plant Cell. This work was supported by grants from the National Science Foundation of China and National Program on Key Basic Research Project of China (973 Program).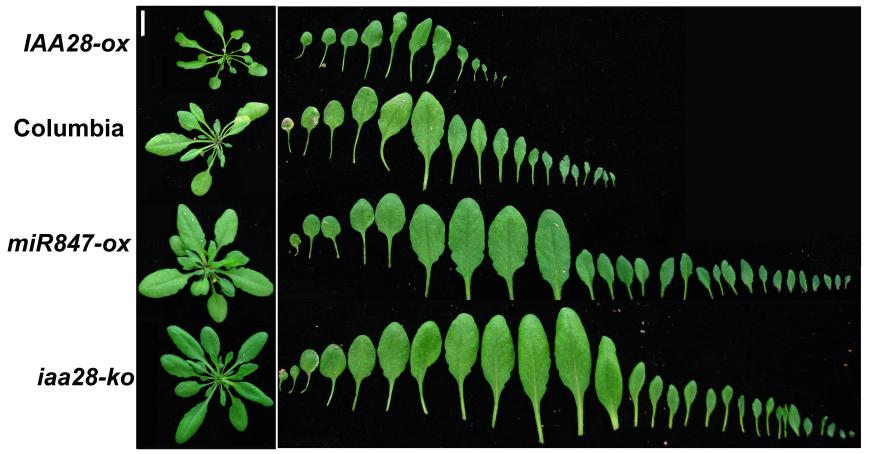 Arabidopsis plants overexpressing the miR847 (miR847-ox)display the similar phenotype to that of IAA28-knockout mutant (iaa28-ko)(Image by Prof. GUO's group)