Hepatitis B virus (HBV) infection is a major global public health problem. Over 350 million individuals are chronically infected worldwide, and in China alone the number is 93 million. Patients with chronic hepatitis B (CHB) are at high risk of developing liver cancer, the second deadliest form of cancer in China. However, the therapeutic drugs and approaches that can effectively treat liver cancer are extremely limited. In addition, liver cancer is generally resistant to chemo- or radio-therapy. Therefore, it is urgent to uncover the potential specific targets to develop liver cancer treatments and drugs.
The "Hepatitis B immunology" group led by Prof. MENG Songdong in Institute of Microbiology, Chinese Academy of Sciences (IMCAS) investigated the potential targets against HBV infection-induced liver cancer. They found that hepatitis B virus (HBV) x protein promotes expression of a heat shock protein gp96, and increased gp96 can in turn promote HBV replication, indicating the positive regulatory network between gp96 and HBV. Notably, elevated gp96 expression and gp96 translocation to cell membrane are significantly correlated with tumor metastasis and poor prognosis in liver cancer patients.
They further found that gp96 promotes p53 degradation, indicating antiapoptotic activity of gp96. Importantly, cell membrane gp96 directly binds to uPAR and HER2, stabilizes these oncoproteins and thereby increases their downstream signaling.
Finally, they used the monoclonal antibody or inhibitor to targeting cell membrane gp96, which greatly suppress liver tumor growth and metastasis. Their results validate that cell membrane gp96 is a potential therapeutic target for liver cancer.
Their findings have great significance for developing novel targeted drugs against liver cancer. They found that highly expressed gp96 contributes to the anti-apoptotic characteristics in HBV-infected liver cancer.
More importantly, cell membrane gp96 may function as a scaffolding protein to increase uPAR stability and facilitate HER2 dimerization on the cell membrane. In addition, cell membrane gp96 exists predominantly in malignant but not in normal cells, suggesting targeting cell membrane gp96 may have little side effects in therapy. Together, their study revealed the potential of targeting cell membrane gp96 as a novel therapeutic approach for liver cancer.
This work was supported by National Program on Key Basic Research Project of China (973 Program), the National Natural Science Foundation of China and Key Projects in the National Science & Technology Program.
Relevant papers can find as follows,
http://www.sciencedirect.com/science/article/pii/S1574789115000538
http://www.sciencedirect.com/science/article/pii/S0304383515000683
http://onlinelibrary.wiley.com/doi/10.1002/ijc.29405/full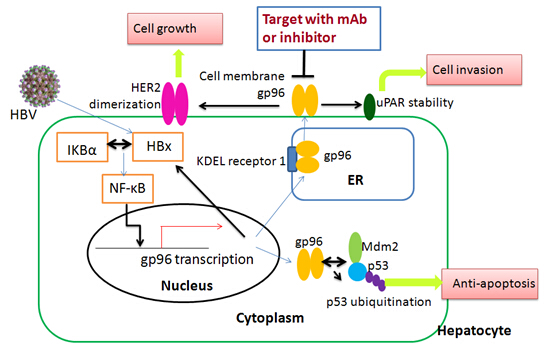 HBV-induced gp96 expression and cell membrane translocation plays an important role in HCC development, growth and metastasis (Image from Prof. MENG's lab).
Contact:
Dr. MENG Songdong
CAS Key Laboratory of Pathogenic Microbiology and Immunology, Institute of Microbiology, Chinese Academy of Sciences (CAS), 100101,Beijing, China
E-mail: mengsd@im.ac.cn