Bunyaviruses include more than 350 named members, making it one of the largest RNA virus groups. Some of these members pose great threat to human health. However, little information of these viruses is available, eg. the receptor, entry mechanism, the organization of two glycoproteins on the viral surface, etc.
A study team led by Prof. George Fu Gao (GAO Fu) in the CAS key Laboratory of Pathogenic Microbiology and Immunology, Institute of Microbiology, Chinese Academy of Sciences and Dr. GAO Feng in the Institute of Genetics and Developmental Biology, Chinese Academy of Sciences, initially determined the glycoprotein Gn structures of two phleboviruses (one of bunyavirus genera) and the complex structure of one kind of Gn with a neutralizing antibody, which provided valuable information for vaccine and antiviral drug design.
In the latest report from International Committee on Taxonomy of viruses (ICTV), Bunyaviridae family was updated to Bunyavirales Order. Three of five existed genera have been promoted to three families (Hantaviridae, Nairoviridae and Tospoviridae), and two genera (Phlebovirus and Orthobunyavirus) were combined with new genera into two different families (Peribunyaviridae and Phenuiviridae), separately. Moreover, four new families were involved in Bunyavirales (Feraviridae, Fimoviridae, Jonviridae and Phasmaviridae).
In this study, Gao's group determined the structure of glycoprotein Gn in two phleboviruses (Severe Fever with Thrombocytopenia Syndrome Virus, SFTSV and Rift Valley fever virus, RVFV), which are all arthropod-borne viruses that has significantly impacted public health.
SFTSV is the causative agent of SFTS, resulting in acute febrile illness in China since 2009 and some patients died of systemic organ failure. This virus was isolated from patient's blood and pathological examinations by Chinese scientists till 2010 (N Engl J Med).
SFTSV infected cases were reported in Korea and Japan as well. RVF is an acute febrile viral disease caused by RVFV. RVF outbreaks in humans and domestic animals have been occurred in Africa and Arabian Peninsula. In 2016, there was an imported RVFV infected case in Beijing. However, no vaccine or antiviral therapy for human against SFTSV and RVFV are available.
Bunyaviruses are enveloped RNA viruses, which genome encompasses three segments (L, M and S). The M segment encodes for two glycoproteins (Gn and Gc). Previous study suggested that Gn may play an important role in receptor binding.
In this study, Dr. WU Yan et al. in Prof. Gao's group determined the structure of Gn head domain in SFTSV and RVFV. These two structures reveal that Gn head domain consist of three subdomains, and the overall fold of these two Gn is similar.
Interestingly, the full length of Gn has two conformations, monomer and dimer. MS analysis and mutation assay demonstrated that four cysteines located near the C-terminus are responsible for dimerization. Moreover, these cysteines are conserved among Hantaviridae, Nairoviridae, Tospoviridae, Phlebovirus in Phemuiviridae and Orthobunyavirus in Peribunyaviridae, thereby suggesting Gn dimer is probably the basic unit anchoring on the viral surface.
Dr. WU Yan et al. also determined the complex structure of SFTSV Gn head domain with a neutralizing antibody MAb 4-5. This result showed that α6 in Gn subdomain III is the key epitope recognized by MAb 4-5, and this epitope is not conserved among bunyaviruses. The binding mode illustrated by the Gn-antibody complex structure provide valuable information for the rational design of vaccine and antivirals against the phleboviruses caused diseases.
The paper entitled "Structures of phlebovirus glycoprotein Gn and identification of a neutralizing antibody epitope" (http://www.pnas.org/content/early/2017/08/16/1705176114.full) has been published online in Proceedings of the National Academy of Sciences of the United States of America (PNAS) with Dr. WU Yan, Mr. ZHU Yaohua, Dr. GAO Feng and Dr. JIAO Yongjun as co-first authors and Dr. GAO Feng and Prof. George Fu Gao as the corresponding authors.
This work was supported by China National Grand S&T Special Project, the Strategic Priority Research Program of the Chinese Academy of Sciences, the National Natural Science Foundation of China and the Youth Innovation Promotion Association from Chinese Academy of Sciences.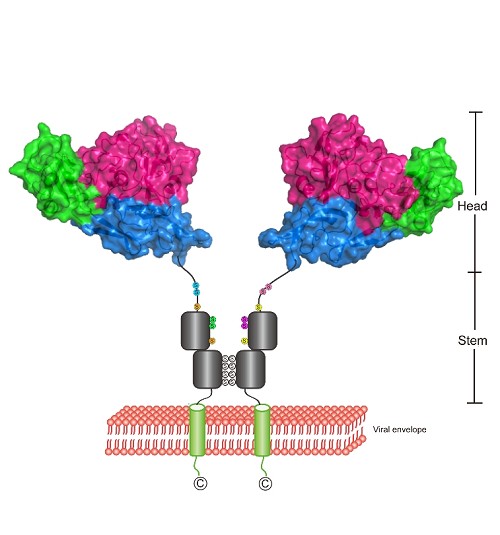 Fig2. The molecular basis of neutralizing antibody MAb 4-5 binding speicificity(Image by Prof. Gao's group).
Contact:
Prof. GAO Fu
E-mail: gaof@im.ac.cn
CAS Key Laboratory of Pathogenic Microbiology and Immunology, Institute of Microbiology, Chinese Academy of Sciences, 100101, Beijing, China