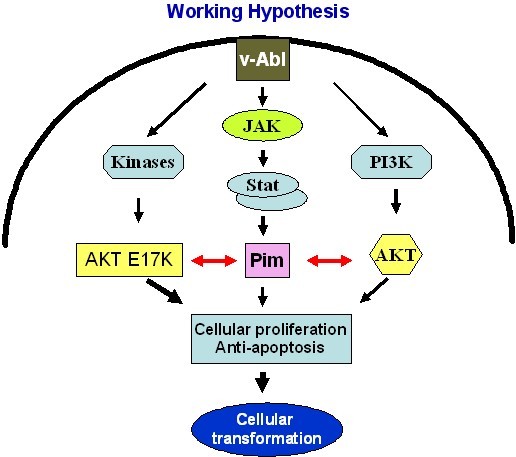 Figure legend. The v-Abl oncogene encodes non-receptor tyrosine kinase that causes activation of JAK/STAT/Pim and PI3K/AKT1 pathways, resulting in cellular transformation. AKT1 mutation promotes v-Abl-mediated B cell transformation. The results suggest that there exists a functional link between JAK/STAT/Pim and PI3K/AKT1 pathways during v-Abl transformation.
Abl-mediated transformation requires the activation of multiple pathways involved in the cellular proliferation and survival, including PI3K/AKT and JAK/STAT-dependent Pim kinases. ABL proteins include the retrovirally-transduced product of ABL, v-ABL, and the product of chromosomal translocations found in human leukemias BCR-ABL and TEL-ABL. The precise mechanism by which Abl oncogenes transform hematopoietic cells is unknown.
Recently, Dr.Jilong Chen's group at Institute of Microbiology, Chinese Academy of Sciences found that AKT1 mutant greatly increased the v-Abl transformation efficiency as compared to wild-type AKT1, indicating that AKT1 mutation plays a role in B cell transformation by v-Abl oncogene.
Furthermore, Dr. Chen's group observed that constitutive activation of AKT1 promotes survival of the Pim-deficient cells, suggesting that there exist a functional link and reciprocal signaling between JAK/STAT/Pim and PI3K/AKT1 pathways in v-Abl transformants. This study has been published online in the journal «Oncogene» in May, 2010.
This work was supported by Natural Science Foundation of China and National Basic Research Program (973) of China.