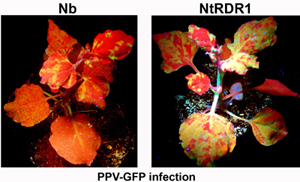 Fig. Nt-RDR1 transgenic plant exhibits hypersusceptibility to viruses infection.

Endogenous eukaryotic RNA-dependent RNA polymerases (RDRs) produce double-stranded RNA intermediates in diverse processes of small RNA synthesis in RNA silencing pathways. RDR6 is required in plants for post-transcriptional gene silencing (PTGS) and has an important role in amplification of antiviral silencing. Whereas, RDR1 is involved in salicylic acid (SA)-mediated antiviral defense in plants.
Nicotiana benthamiana has a natural loss-of-function mutation RDR1 gene, and it has been suggested that the extreme susceptibility of N. benthamiana to a wide range of viruses is because it lacks an SA-inducible RDR1.

Prof. GUO Hui-shan and colleagues, State Key Laboratory of Plant Genomics, Institute of Microbiology, Chinese Academy of Sciences, found that N. benthamiana transformed with RDR1 from N. tabacum (Nt-RDR1) exhibits hypersusceptibility to several viruses. Further analysis showed that Nt-RDR1 possesses silencing suppression activity. They found that Nt-RDR1 does not interfere with RDR6-dependent siRNA accumulation, but turns out to suppress RDR6-dependent PTGS. This surprising result provides evidence supporting a dual role for RDR1 in contributing to SA-mediated antiviral defense at the same time as it suppresses RDR6-mediated antiviral RNA silencing.
They propose a scenario in which the natural loss-of-function variant of RDR1 in N. benthamiana may be the outcome of selective pressure to maintain a high RDR6-dependent antiviral defense, which would be required to face the hypersensitivity of this plant to a large number of viruses. The article entitled "RNA-Dependent RNA Polymerase 1 from Nicotiana tabacum Suppresses RNA Silencing and Enhances Viral Infection in Nicotiana benthamiana" has been published in The Plant Cell, 16th April 2010.