WDCM Asian Training Course on Management and Application of Microbial Data Resources was held in Institute of Microbiology, Chinese Academy of Sciences (IMCAS) during May 27-June 12, 2012.
The microbiologists discussed such important issues as data standards, databases, software and platform for microbial resources sharing, regional and national culture collections' works, utilization of microbial resources information as well as WDCM activities and future work.
The training involved DNA Barcoding databases, database management of culture collections and WDCM platform, taxonomy and preservation of microbial resources, genomics and metagenomics analysis, as well as principles and examples of database network of microbial resource. Meanwhile, WDCM arranged lecture on the initiative of Global Catalogue of Microorganisms, facilitating its implementation. 14 trainers from China, the U.S.A, Belgium and Japan gave lectures in the course.
In the closing ceremony which was presided over by Dr. MA Juncai, WDCM Director, Prof. HUANG Li, IMCAS Director-General, Dr. R. Jayakumar, Representative of UNESCO Beijing Office, Dr. Philippe Desmeth, WFCC President, Dr. Junichi Nakagawa, NITE Biological Research Center Director and Dr. Yeonhee Lee, ANRRC Director delivered speeches successively. The trainees were awarded the certificates of completion.
19 trainees from 8 countries, including Indonesia, Malaysia, Mongolia, Pakistan, Thailand, the Philippines, Vietnam, etc., attended the event.
The training course was sponsored by the Program of Scientific and Technical Training Course for Developing Countries of Bureau of International Co-operation, Chinese Academy of Sciences, and organized by WFCC-MIRCEN World Data Center for Microorganisms (WDCM), World Federation for Culture Collections (WFCC), United Nations Educational, Scientific and Cultural Organization (UNESCO), Asian Consortium for Conservation and Sustainable Use of Microbial Resources (ACM) and Asian Network for Research Resource Centers (ANRRC), Research Network for Applied Microbiology, Chinese Academy of Sciences (RNAM), and the Committee on Data for Science and Technology (CODATA).
--Dr. MA Juncai , WDCM Director gives lecture--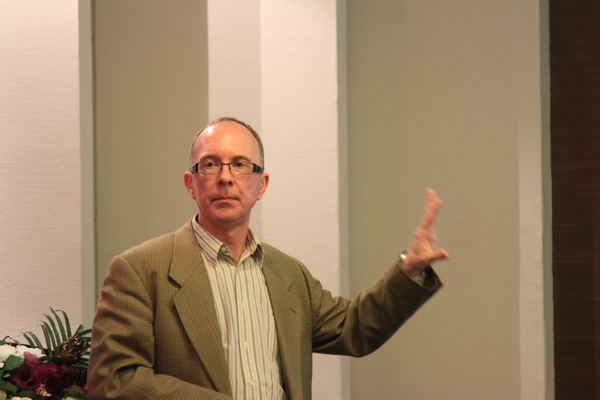 --Dr. Philippe Desmeth, WFCC President gives lecture--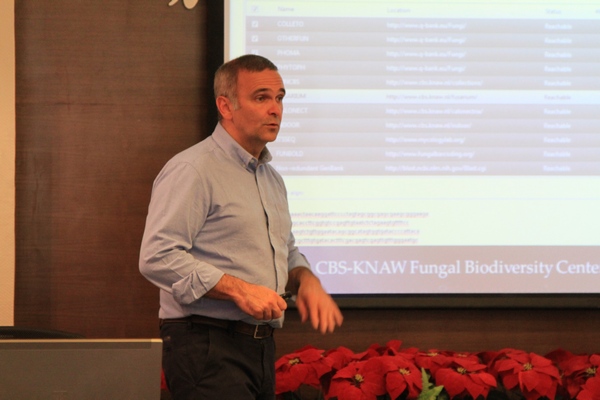 --Dr. Vincent Robert of CBS-KNAW Fungal Biodiversity Center gives lecture--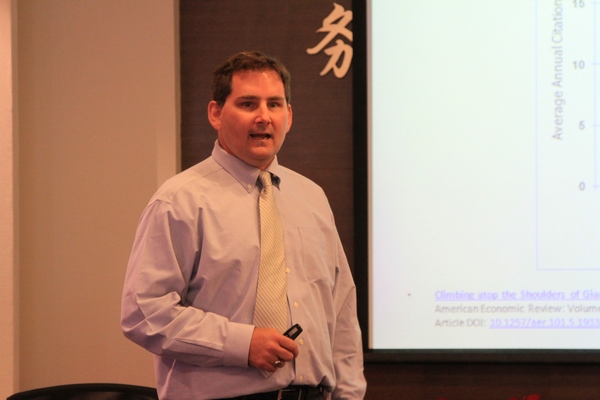 --Prof. Kevin McCluskey of University of Missouri- Kansas City gives lecture--
--Dr. Ken-ichiro Suzuki of NBRC gives lecture--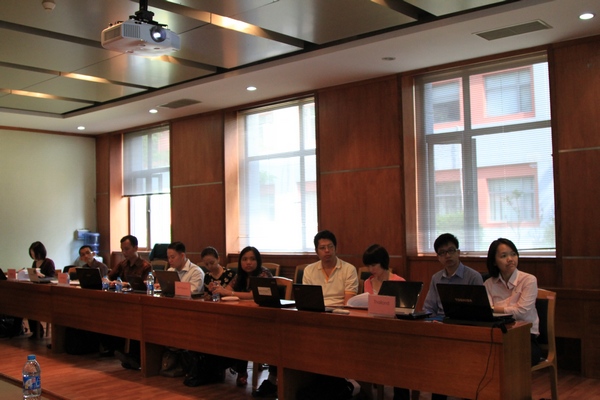 --The training course--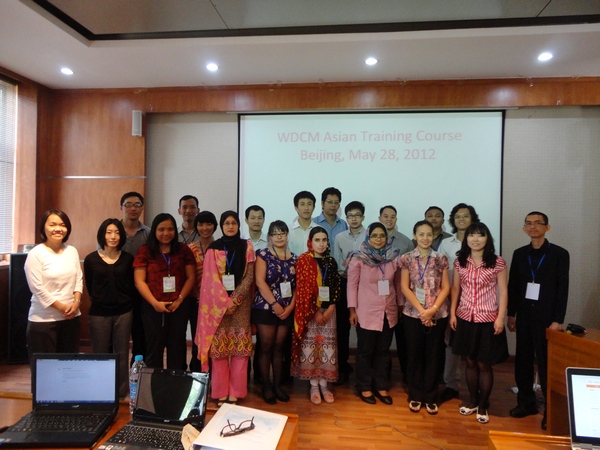 --Group photo--
--Dr. MA Juncai , WDCM Director presides over the closing ceremony--
--Prof. HUANG Li, IMCAS Director-General awards certificate of completion--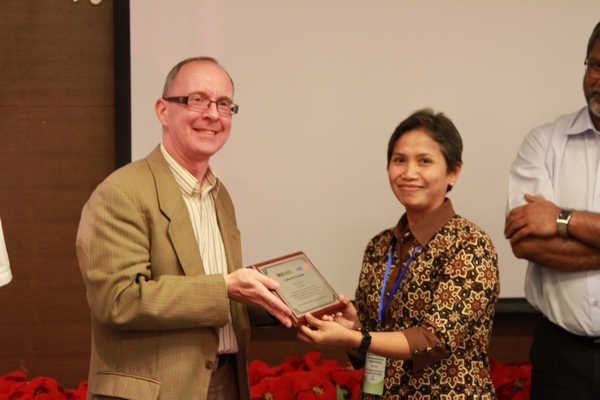 -- Dr. Philippe Desmeth, WFCC President awards certificate of completion --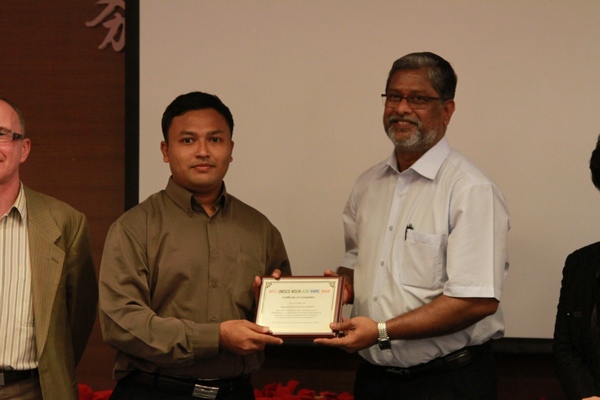 -- Dr. R. Jayakumar, UNESCO Beijing Office Representative awards certificate of completion --
--Dr. Junichi Nakagawa, NITE Biological Research Center Director awards certificate of completion --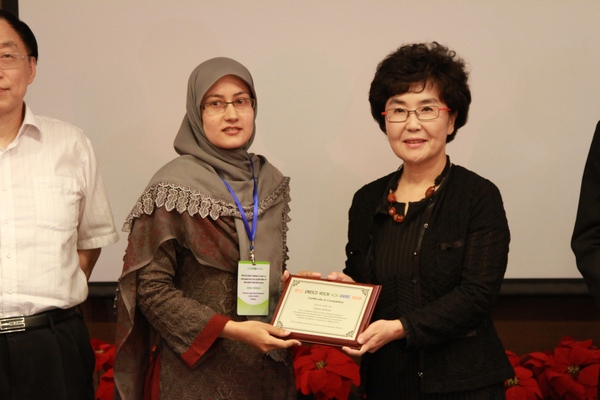 --Dr. Yeonhee Lee, ANRRC Director awards certificate of completion --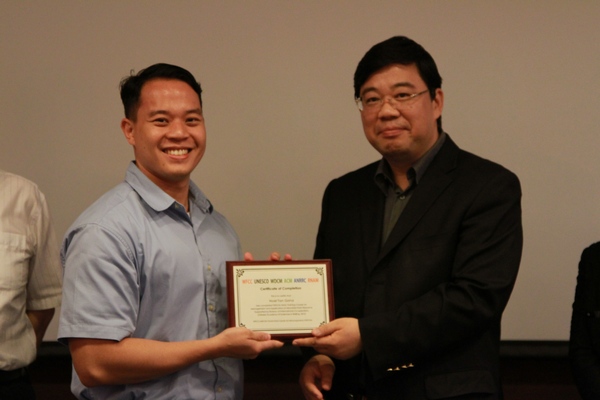 -- Dr. MA Juncai , WDCM Director awards certificate of completion --