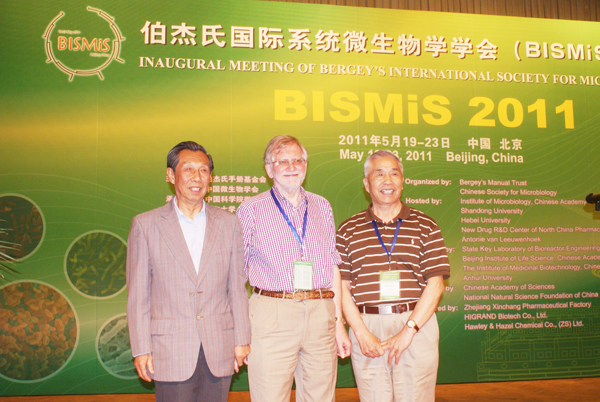 -- From left:Prof.RUAN Jisheng,Prof.Goodfellow,Prof.LIU Zhiheng (Image by IMCAS) --
On the closing ceremony of the Meeting of Bergey's International Society of Microbial Systematics (BISMiS) on May 22, Prof. Goodfellow, Chairman of Bergey's Manual Trust, announced that Prof. RUAN Jisheng and LIU Zhiheng from Institute of Microbiology, Chinese Academy of Sciences (IMCAS) would share this year's Bergey's Medal.
The Bergey Medal is the highest award bestowed to individuals in recognition of their life-long contributions to the field of systematics bacteriology. It is the first time Chinese scientists have ever received such an honor.
Professor RUAN has worked on the taxonomy of actinomycetes in IMCAS for over 50 years. In 1987, he served as president of the Frankia Subcommittee in the International Committee on Systematics of Prokaryotes, and helped establish the systematics standard for Actinoplanaceae and Nocardia. He and his colleagues also found a total of 5 new actinomycete genera, 93 new species, wrote 7 books on actinomycetes and published more than 120 papers. Currently, he is still committed to educating talents in systematics of actinomycetes.
Engaged in the systematics of actinomycetes, Professor Liu has made remarkable achievements in microbial diversity, natural products of actinomycetes resources and astrobiology. In addition, he also participates in numerous inter-governmental scientific and technological cooperation projects, and has published 10 books and 150 papers. He is also a founding member of BISMiS meeting.
In the 1990s, the Trust commissioned a medal, the Bergey Medal, to be given to individuals who have made significant lifetime contributions to bacterial systematics and to recognize the service of Trustees. Up to 2010, only 41 outstanding scientists have received the Bergey Medal worldwide.