Tuberculosis (TB), which is a contagious disease caused by Mycobacterium tuberculosis (Mtb), remains a major cause of morbidity and mortality worldwide. Dr. Cui Hua Liu's group has been investigating the molecular mechanisms underlying Mtb-host interplays, and previous studies from her group have provided potential targets for the development of anti-TB treatments based on pathogen-host interacting interfaces (Autophagy, 2021; EMBO Report, 2021; Nature Communications, 2019; Nature Communications, 2017; Nature Immunology, 2015).
Increasing lines of evidence indicates that some individuals are naturally resistant to TB infection and thus are termed as resisters. The resister phenotype has been linked to host efficient innate immune responses, but the underlying mechanisms and the key immune factors remain poorly understood. Recently, Dr. Cui Hua Liu's group, in collaborating with Dr. Yu Pang's group from Beijing Chest Hospital, found that histone deacetylase 6 (HDAC6) is persistently expressed in monocyte-derived macrophages from resisters during Mtb infection. They further showed that HDAC6 acts as a key host factor required for macrophage producing pro-inflammatory cytokines including TNF-α, IL-1β and IL-6, and promoting acidification of Mtb-containing vacuoles for bacterial clearance. Taken together, this study reveals an indispensable role of HDAC6 in mediating anti-Mtb innate immune responses in resisters, implying that HDAC6 may serve as a marker for individual TB risk as well as a novel host-directed anti-TB therapeutic target.
The paper entitled "HDAC6 contributes to human resistance against Mycobacterium tuberculosis infection via mediating innate immune responses" has been published online in The FASEB Journal with Fuzhen Zhang, Shanshan Yu, Qiyao Chai and Jing Wang as the co-first authors and Dr. Cui Hua Liu and Dr. Yu Pang as the co-corresponding authors. This work was supported by the National Key Research and Development Program of China, the National Natural Science Foundation of China and the Beijing Hospitals Authority' Ascent Plan.
Full text links: https://faseb.onlinelibrary.wiley.com/doi/full/10.1096/fj.202100614R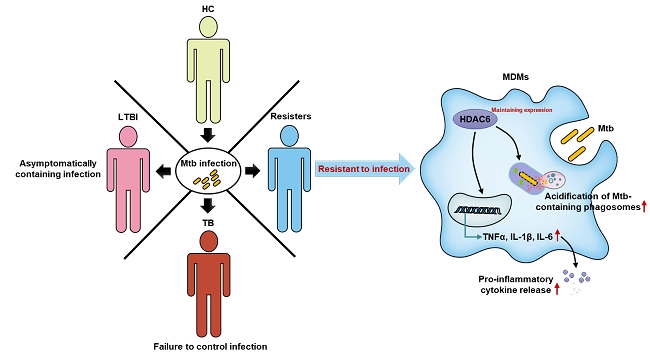 Figure 1. Schematic model showing mechanisms by which resisters display enhanced innate immune responses against Mycobacterium tuberculosis infection.
Contact:
Dr. Cui Hua Liu
E-mail: liucuihua@im.ac.cn
CAS Key Laboratory of Pathogenic Microbiology and Immunology, Institute of Microbiology, Chinese Academy of Sciences, 100101, Beijing, China