MA Yanhe
Address:NO.1 West Beichen Road, Chaoyang District, Beijing 100101, China
Telephone/fax:
010-64807616
E-mail:
mayanhe@sun.im.ac.cn
Research Interests
(1)Ecology and taxonomy of extremophiles
(2)Physiological mechanisms of extremophiles' adaptation to extreme environments
(3)Exploration of novel functionality of extremophiles for application.
Our current ongoing projects include: ……
●Synthetic Cell Factories, 973 Program
●Synthesis and characterize the stress resistance parts, 973 Program
●Biotechnological production of bulk chemicals, 863 Program
●Exploitation and application of extremozymes for green biological process, 863 Program
Education/degrees
Ph.D., Fermentation Engineering angnan University, China (2005)
Bachelor of Biology Nankai University, China (1983)
Work experience
1983~ Staff member, Institute of Microbiology, CAS
1992 Visiting Scholar, Alicante University, Spain
2001 Visiting Scholar, Leicester University, UK
1999~ Professor of Microbiology, IMCAS
2000-2005 Deputy Director, Biotechnology Center, IMCAS
2005-2007 Deputy Director, Center for Bioenergy and Industrial Biotechnology, IMCAS
2007-2012 Deputy Director, State Key Laboratory of Microbial Resources, IMCAS
2008- Director, National Engineering Lab for Industrial Enzymes
The main research areas
Our research interest is focused on discovering, understanding and application of extremophiles.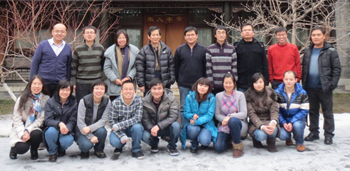 Publication
1) Yajian Song, Yanfen Xue, Yanhe Ma*. 2013. Global Microarray Analysis of Carbohydrate Use in Alkaliphilic Hemicellulolytic Bacterium Bacillus sp. N16-5. PLoS One. 8(1): e54090.
2) Lang Rao, Yanfen Xue, Yingying Zheng, Jian R. Lu*, Yanhe Ma*. 2013. A Novel Alkaliphilic Bacillus Esterase Belongs to the 13th Bacterial Lipolytic Enzyme Family. PLoS One. 8(4): e60645.
3) Wenqin Bai, Yanfen Xue, Cheng Zhou, Yanhe Ma*. 2012. Cloning, expression and characterization of a novel salt tolerant xylanase from Bacillus sp. SN5. Biotechnol Lett. 34: 2093–2099.
4) Ying Meng, Yanfen Xue, Bo Yu, Chenghua Gao, Yanhe Ma*. 2012. Efficient production of L-lactic acid with high optical purity by alkaliphilic Bacillus sp. WL-S20. Bioresour Technol.116: 334–339.
5) Guimin Zhang, Shunyi Li, Yanfen Xue, Liangwei Mao, Yanhe Ma*. 2012. Effects of salts on activity of halophilic cellulose with glucomannanase activity isolated from alkaliphilic and halophilic Bacillus sp. BG-CS10. Extremophiles. 16: 35–43.
6) Lei Zhai, Tingting Liao, Yanfen Xue*, Yanhe Ma. 2012. Bacillus daliensis sp. nov., an alkaliphilic, Gram-positive bacterium isolated from a soda lake. Int J Syst Evol Microbiol. 62: 949–953.
7) Jinshan Li#, Wei Wang#, Yanhe Ma, Anping Zeng*. 2012. Medium optimization and proteome analysis of (R,R)-2,3-butanediol production by Paenibacillus polymyxa ATCC 12321. Appl Microbiol Biotechnol. DOI 10.1007/s00253-012-4331-6.