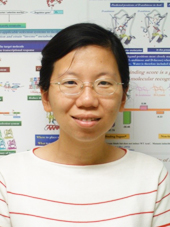 Principal Investigator,Professor : Protein Engineering and Microbial Enzymes Applications
Shuang-Yan Tang(Deputy Director)
Dept.:CAS Key Laboratory of Microbial Physiological and Metabolic Engineering
Address:
NO.1 Beichen West Road, Chaoyang District,Beijing 100101, P.R.China
Telephone/fax:
Background
Education:
Ph.D. 2006 Food Science, Seoul National University
M.S. 1998 Biochemistry, Wuhan University
B.S. 1995 Biochemistry, Wuhan University
Employment:
2011-present Institute of Microbiology, Chinese Academy of Sciences, Professor
2006-2010 The Pennsylvania State University, Postdoctoral researcher
1998-2003 Yunnan Provincial Institute for Drug Control
Research Interests
1. Carbohydrate enzymes engineering
We are engineering microbial enzymes for novel or improved properties using combinatorial (evolutionary) as well as rational (structure-based) protein design techniques. We are especially interested in carbohydrate enzymes such as glycosidase and glycosyltransferase. The substrate or product specificity, catalytic activity and stability of these enzymes are engineered for extensive application.
2. Biosynthesis of high value small molecules
We are engineering the biosynthesis pathways of small molecules including pharmaceuticals, food additives and other commodity chemicals in E. coli. We aim at efficiently converting renewable and abundant natural resources into higher value products using microbes (especially E. coli). Combinatorial (evolutionary) techniques are mainly used to engineer the biosynthesis pathways to improve the product yields or pathway efficiencies.
Awards
9/2003-2/2006 Scholarship of Korea Science and Engineering Foundation