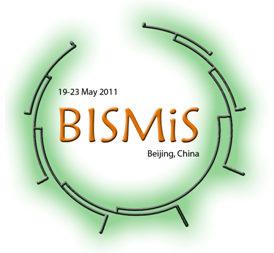 Beijing, China, 19-23, May, 2011
The Bergey's Manual is known as the "Bible" for microbial researchers and the absolute authority in the field of microbial systematics. Bergey's Manual Trust (www.bergeys.org) first voted to sponsor an international society for microbial systematics, "Bergey's International Society for Microbial Systematics (BISMiS)" at its annual meeting in Gothenburg, Sweden, in June 2009. And the Inaugural Meeting to be held in Beijing will be the premier international biology event on microbial systematics.
The purpose of BISMiS is to promote the importance of teaching and research in microbial systematics and to foster communication between microbial systematists across the world. These objectives include the pressing need to promote an understanding of the vast, largely unstudied, microbial diversity which has untapped genetic and industrial potential. Indeed, a basic aim of the society is to enhance efforts to isolate microorganisms in pure culture and to describe, classify, name and identify them and, where appropriate, to use them for exploitable biotechnology. The meeting in Beijing is designed to help realize these aims.
Themes
Microbial Systematics: Concepts, Practices and Recent Advances
The ultimate goal of the conference is to provide a dedicated event for Microbial Systematics.
Topics
Mini symposium 1: Microbial Systematics and Diversity
Mini symposium 2: Eukaryotic Systematics
Mini symposium 3: Microbial Diversity and its Impact on Biotechnology
Mini symposium 4: Archaea Systematics and Biotechnology
And in addition: Roots of Systematics, and Metabolites.
Programme
The conference – Microbial Systematics: Concepts, Practices and Recent Advances – will be held four days. The Opening Ceremony on Thursday, May 19th will include a keynote lecture by K. Barry Sharpless, Nobel Prize Laureat (The Scripps Research Institute, USA). Thereafter, the conference will be divided into four minisymposia: day 1, Microbial Systematics and Diversity and Eukaryotic Systematics (simultaneous sessions); day 2, Microbial Diversity and its Impact on Biotechnology; and day 4, Archaeal Systematics and Biotechnology. There will be Young Scientists (under 35 years old) Fora running concurrently on days 2 and 3 to highlight the work of younger scientists amongst whom will be tomorrow's stars and leaders in microbial systematics are drawn from across the world. In addition, there will be Poster Sessions and a Trade Fair.
Key Data
| | |
| --- | --- |
| Deadline for Submission of Abstracts | February 15th, 2011 |
| Abstract Acceptance Notification | February 28th, 2011 |
| Deadline for Early Bird Registration | March 15th, 2011 |
For more information,please visit: www.bismis.org
Contacts:
Affairs staff: Dr. Jian (Dylan) Wang
Affairs staff: Dr. Elizabeth J. Ashforth
Tel: +86-10-62566511
Fax: +86-10-62566511
E-mail: bismis2011@gmail.com